Wedge for Sky-Watcher AZ-GTi AZ GoTo Mount Information
On this page, I present some information about my Sky-Watcher wedge for my Sky-Watcher AZ-GTi mount head (ordered on February 8, 2021, arrived on February 9). Together with the tripod of the Sky-Watcher AZ Pronto mount (or any other tripod) both form a parallactic (or EQ) GoTo mount, controlled via a smartphone using the Sky-Watcher SynScan app or using the SynScan handbox. I plan to use the Celestron C5 and Omegon PS 72/432 tubes on this mount.
Note: The AZ-GTi mount is delivered as a "wireless" mount (WLAN). However, it can also be controlled using a handbox, if you own one or want to buy one. I own the handbox V4, which allows to operate the mount (after a firmware update, see the next note) in AZ as well as in EQ mode. According to a star friend this is also possible with the newer handbox V5!
Note: The internal software of the AZ-GTi mount has to be updated in order to allow it to be used as both an AZ and an EQ mount. For details see page Wedge for Sky-Watcher AZ-GTi AZ GoTo Mount - First Experiences.
See also:
Introduction
In 2018, Sky-Watcher released new internal software for the AZ-GTi mount that allows this mount to be operated not only in AZ mode, but either in AZ or in EQ mode. How to perform this update is covered below. Apparently, after this update, you can also insert the telescope tube in any direction. Initially, I thought that this would be important for an optimal placement of the finder, as it is in the AZ mode. But later, I found out that the dovetail lies horizontally in the home position so that the direction of the tube does not depend on its orientation. More on this later (or elsewhere)!
For EQ mode, the AZ-GTi mount head must be placed on a wedge. This is also shown below. In principle, any wedge of suitable size can be used, but of course a Sky-Watcher wedge recommends itself, namely the one matching the Sky-Watcher Star Adventurer. Only this one is discussed on this page.
You also need a counterweight for balancing the tube. And finally, the head of the clamping screw for fixing the Vixen rail is too large, so the clamping screw has to be replaced with another one. Again, this is demonstrated below.
Note: This page presents only the required mechanical elements (wedge, bolt, screw, counterweight) and their assembly. Updating the software, balancing the mount, polar alignment, and first practical experiences are covered on page Wedge for Sky-Watcher AZ-GTi AZ GoTo Mount - First Experiences.
Look
Wedge
Wedge on Tripod, Preparing the Mount Head for Mounting
AZ-GTi Mount Head installed
Fixing Screw and Counterweight
See also: Sky-Watcher AZGTi Mount with new dual mode AZ/EQ Firmware (Wolfie6020, video): www.youtube.com/watch?v=By6mBcMspGQ
Fixing Screw
The original fixing screw of the wedge bumped very fast against the AZ-GTi mount. The head of a normal fixing screw, which I had available, was unfortunately a few millimeters too thick, and so I ordered an M8 screw with an Allen head. That fits!
Bolt for Counterweight
As a counterweight you might use the counterweight of the Star Adventurer mount from Sky-Watcher. However, the thread does not fit and must be enlarged to M12 by an "attachment". On the Internet it is recommended to use a 30 cm long M12 bolt instead. I ordered one and received it already. There the problem remains, which counterweight would fit and how I can mount it...
On the Tripod (with Bolt, no Counterweight)
Counterweight
I found on the Internet that counterweights around 1 kg are typically used for the AZ-GTi. I chose one from Explore Scientific, because there were only a few counterweights available. It has an inner diameter of 14 mm, so it "flops" a bit on the axle. Otherwise, it seems to work:
On the Tripod (with Bolt and Counterweight)
Look with Tripod and Telescope Tube
With C5 and Tripod
With PS72 and Tripod
Controlling the AZ-GTi via SynScan App and SynScan Handbox
By default, the AZ-GTo is operated with the SynScan App on a smartphone. After updating the software (see page Wedge for Sky-Watcher AZ-GTi AZ GoTo Mount - First Experiences), the mount can be operated in AZ or EQ mode: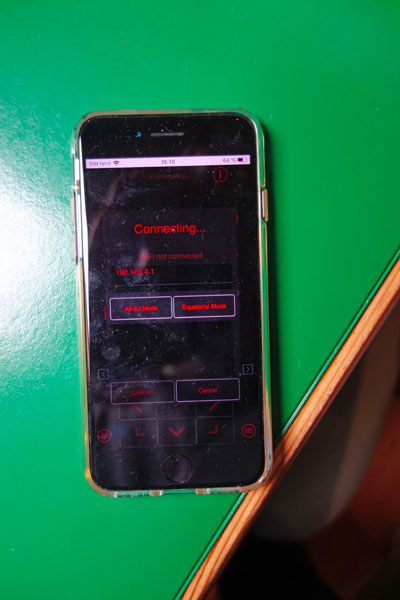 It is, however, also possible to operate the AZ-GTi with a handbox. I still own the handbox from the Star Discovery mount, which is now also sold without handbox and only with WLAN adapter. In my case it is the SynScan V4 handbox: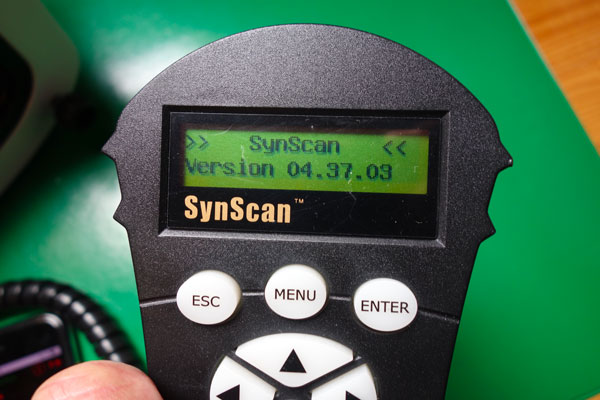 I can only speak for the V4 handbox; however, a starfriend informed me that V5 can do the same.
Here are the two operating modes selected:
Selecting the modes is done with the scroll keys after switching the mount on: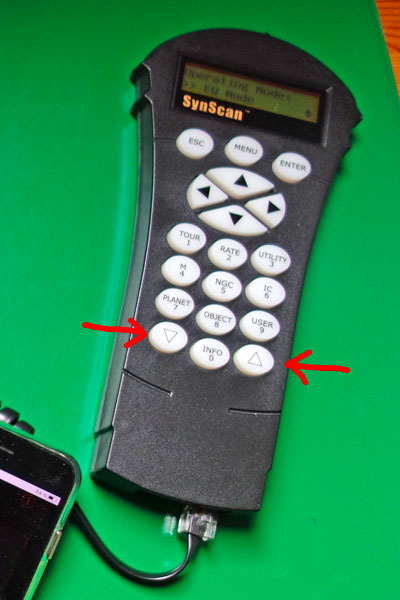 Here is my "experimental setup" to try out the control options: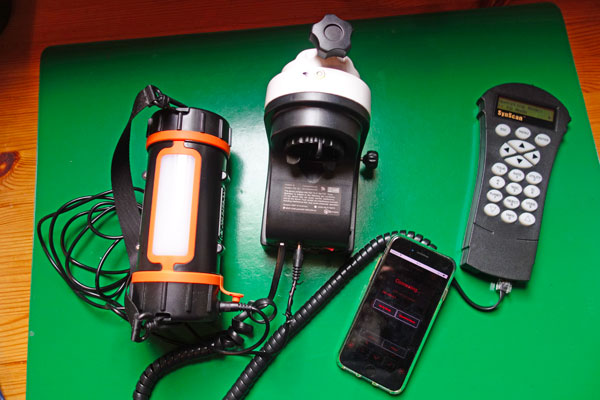 I had the handbox connected and the SynScan app in operation, so both active were at the same time. The AZ-GTi mount could be operated with both of them! So I have carried out a "pseudo! 1-star alignment with the app and "symbolically" approached M 13. Then, I approached M 13 with the handbox, and the mount has only "jerked around" something "in the vicinity" and thus, considered the previous alignment and GoTo. But there will probably be no real "data communication" between the app and the handbox. They surely both communicate only with the AZ-GTi...
Preliminary Conclusions
It took me some time to gather all the parts needed to turn the AZ-GTi mount into an equatorial mount. Assembling the parts was also not easy for me, because I do not have any experiences with such mounts and was not able to find suitable photos on the Internet. Aa sn additional complication, Sky-Watcher does not officially support this mount variation and therefore does not offer sufficient information for it. On page Wedge for Sky-Watcher AZ-GTi AZ GoTo Mount - First Experiences, I describe my attempts at getting all this to work.
Links