NGC 4387, NGC 4388, and NGC 4402
Introduction | Map | My Own Photos | My Own Observations | References
On this page I collect my observations of the elliptical galaxy NGC 4387, the spiral galaxy NGC 4388, and of the spiral galaxy NGC 4402 in the constellation Virgo.
Introduction
The elliptical galaxy NGC 4387 in the constellation Virgo is fairly small for the eVscope. So why did I observe it? Actually, it is the nose of the "Great Galactic Face", which is formed by the larger galaxies M 84 and M 86 (the eyes) and the small galaxies NGC 4387 and NGC 4388 in constellation Virgo. Accessing NGC 4387 shows the GGF optimally in the eVscope. The photos also show the spiral galaxy NGC 4402 on top of the face.
By the way, accessing NGC 4387 also positionsM 84 and M 86 together optimally, not only the Great Galactic Face.
NGC 4387
NGC 4388
NGC 4402
Size: 1.6' x 0.9' (SkySafari)
Distance: 58 million light years (SkySafari)
Rating: ---
Size: 5.4' x 1.3' (SkySafari)
Distance: 57 million light years (SkySafari)
Rating: ---
Size: 3.5' x 1.0' (SkySafari)
Distance: 40 million light years (SkySafari)
Rating: ---
Map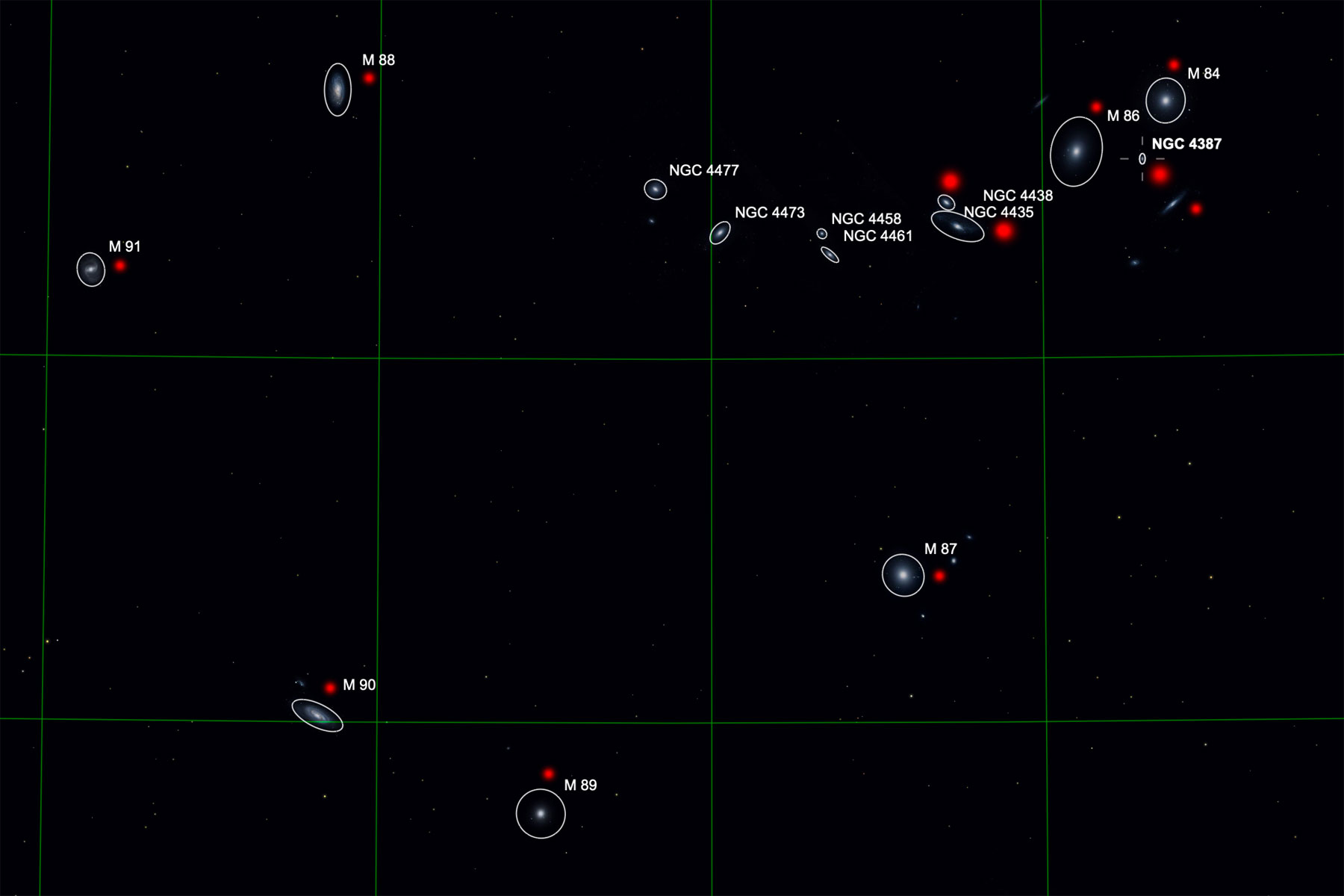 The elliptical galaxy NGC 4387 in the constellation Virgo (Image Courtesy of SkySafari Astronomy, www.simulationcurriculum.com)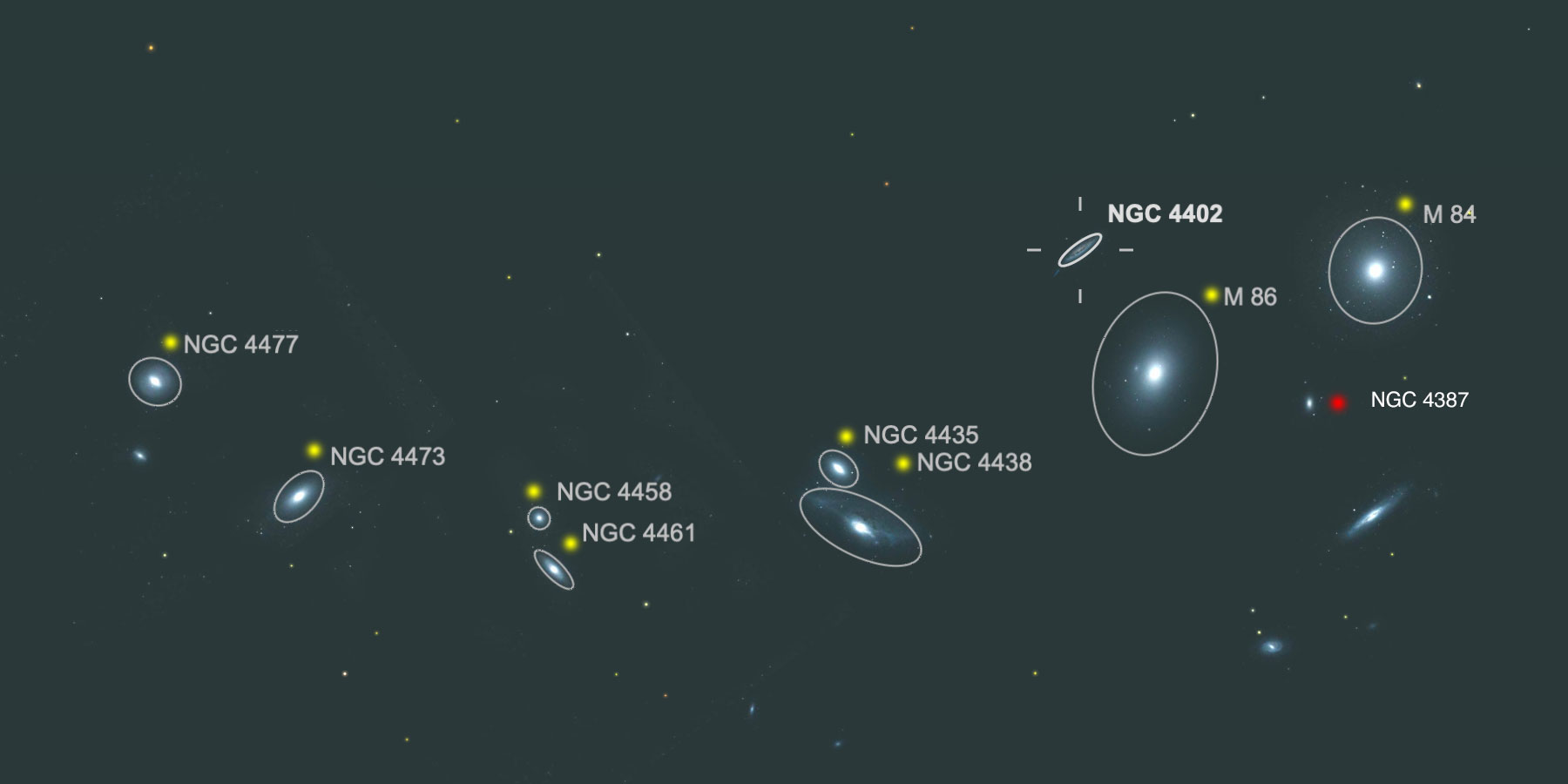 The galaxies M 84 and M 86 (right) and the small galaxies NGC 4402 (selected, spiral galaxy) and NGC 4387 (red dot, elliptical galaxy) in constellation Virgo (in the Virgo galaxy cluster) (Image Courtesy of SkySafari Astronomy, www.simulationcurriculum.com)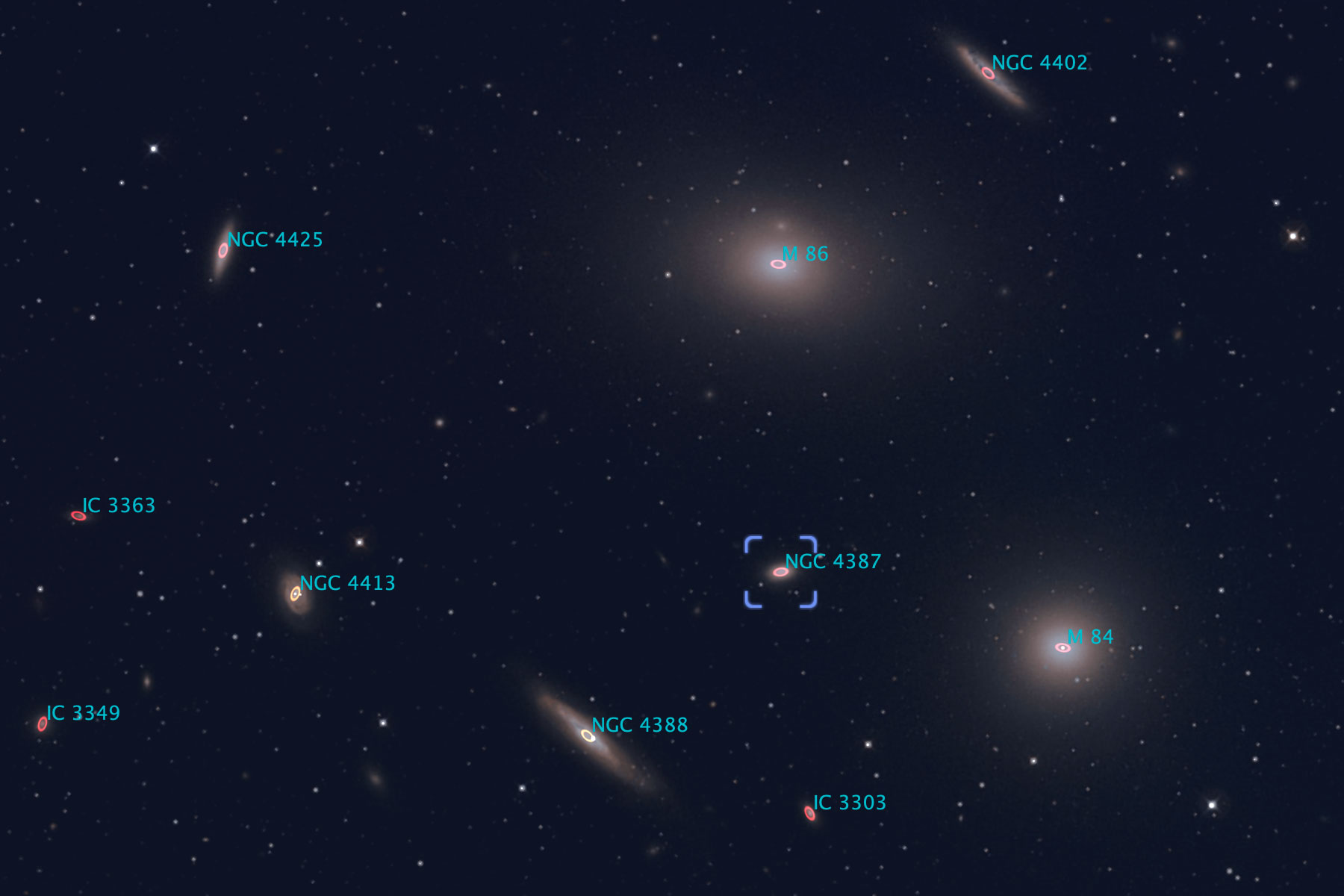 The galaxies M 84 and M 86 and the small galaxies NGC 4387 (selected) and NGC 4388 in constellation Virgo (in the Virgo galaxy cluster) form the "great galactic face" (which obviously is only known to the Stellarium application). (Created with Stellarium)
My Own Photos
eVscope
| | | | | |
| --- | --- | --- | --- | --- |
| | | | | |
| NGC 4387 - Mar 7, 2021 (NGC 4402 top left, NGC 4388 bottom right) | | NGC 4387 - Mar 7, 2021 (NGC 4402 top left, NGC 4388 bottom right) | | NGC 4387 - Mar 7, 2021 (NGC 4402 top left, NGC 4388 bottom right) |
| | | | | |
| NGC 4387 - Mar 7, 2021, photo on top processed | | NGC 4387 - Mar 7, 2021, photo on top processed | | NGC 4387 - Mar 7, 2021, photo on top processed |
| | | | | |
| NGC 4387 - Mar 8, 2021 (NGC 4402 top left, NGC 4388 bottom right) | | NGC 4387 - Mar 8, 2021 (NGC 4402 top left, NGC 4388 bottom right) | | NGC 4387 - Mar 8, 2021 (NGC 4402 top left, NGC 4388 bottom right) |
| | | | | |
| NGC 4387 - Mar 8, 2021, photo on top processed | | NGC 4387 - Mar 8, 2021, photo on top processed | | NGC 4387 - Mar 8, 2021, photo on top processed |
My Own Observations
Observations March 2021
March 7, 2020 (Mühlhausen/Kraichgau: eVscope): NGC 4387 (GGF) photographed in the rectangular format without overlay, eVscope misfocused, partly exposed manually
March 8, 2020 (Mühlhausen/Kraichgau: eVscope): NGC 4387 (GGF) photographed (r.f., n.o.), partly exposed manually
References
On this Site