Messier 95 (M 95)
Introduction | Map | My Best Own Photos | My Own Observations | References || Appendix: My Own Photos
On this page I collect my observations of the barred spiral galaxie M 95 in the constellation Leo.
Introduction
The galaxy M 95 in the constellation Leo is part of a galaxy quartet (the M 96 group). All these galaxies are, however, difficult to find in light-polluted skies, as I also had to find out.
M 95 is a s mall barred spiral galaxy, relatively faint, but the bar is visible. It forms a pair with M 96, but both are too far away for the eVscope (40') to be seen together.
Size: 3.5 x 3 (Stoyan)
Distance: 40 million light years
Rating: * (Stoyan)
Map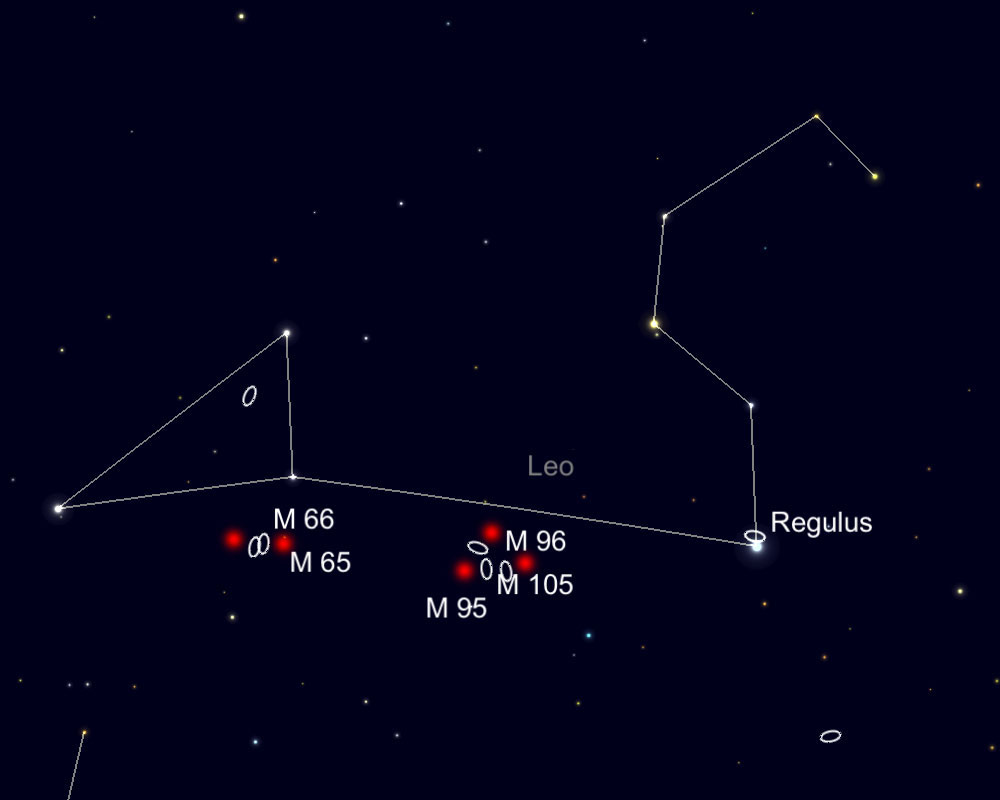 The barred spiral galaxy M 95 in the constellation Leo as well as the neighboring galaxies M 96, M 105, and the pair M 65/M 66 (Image Courtesy of SkySafari Astronomy, www.simulationcurriculum.com)
My Best Own Photos
ZWO ASI224 at Omegon PS 72/432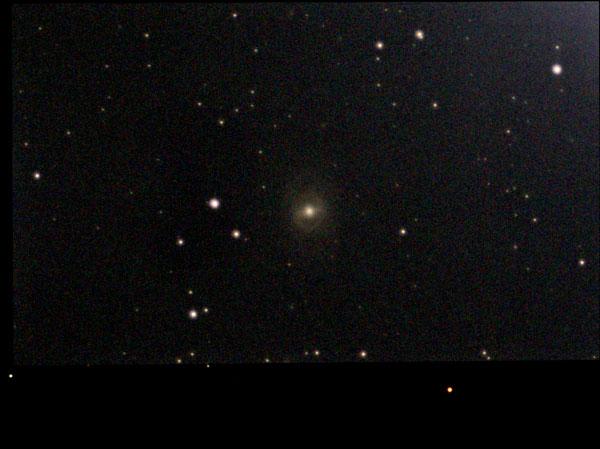 M 95 - Apr 13, 2021 - 13 frames, 10 s, gain 300, processed
eVscope
| | | | | |
| --- | --- | --- | --- | --- |
| | | | | |
| M 95 - Apr 22, 2020, photo above processed | | M 95 - Apr 23, 2020, photo above processed | | M 95 - Apr 23, 2020, photo above processed |
| | | | | |
| M 95 - Mar 7, 2020 | | M 95 - Mar 7, 2020 | | M 95 - Mar 8, 2020 |
| | | | | |
| M 95 - Mar 7, 2020, photo above processed | | M 95 - Mar 7, 2020, photo above processed | | M 95 - Mar 8, 2020, photo above processed |
My Own Observations
Observations March/April 2020
March 13 and 22, 2020 (Mühlhausen/Kraichgau: eVscope): M 95 photographed.
April 22 and 23, 2020 (Mühlhausen/Kraichgau: eVscope): M 95 photographed (no overlay, rectangular format).
April 23, 2020 (Mühlhausen/Kraichgau: C8): M 95 observed, faint (comparison with eVscope)
Observations March/April 2021
March 7, 2021 (Mühlhausen/Kraichgau: eVscope): M 95 photographed (r.f., n.o.), eVscope defocused, photos discarded
March 8, 2021 (Mühlhausen/Kraichgau: eVscope): M 95 photographed (r.f., n.o.), exposed manually
Observations March/April 2022
March 20, 2022 (Mühlhausen/Kraichgau: eVscope 2): M 95 photographed (app version 1.5)
April 17, 2022 (Mühlhausen/Kraichgau: eVscope): M 95 and 96 photographed together (M 95 alone was not found...) (app version 1.5)
References
On this Site

---
Appendix: My Own Photos
ZWO ASI224 at Omegon PS 72/432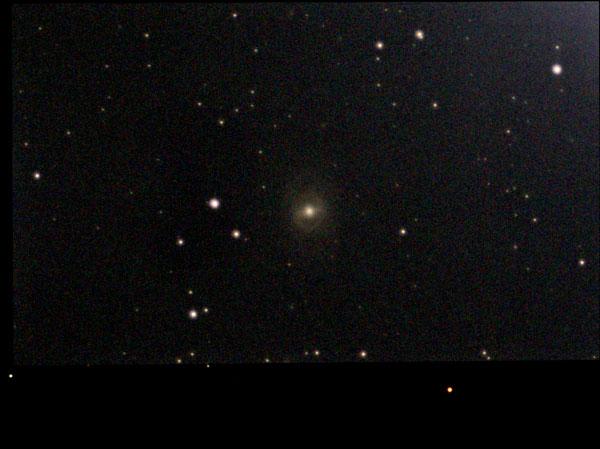 M 95 - Apr 13, 2021 - 13 frames, 10 s, gain 300, processed
eVscope
| | | | | |
| --- | --- | --- | --- | --- |
| | | | | |
| M 95 - Mar 13, 2020 | | M 95 - Mar 13, 2020, photo left processed | | |
| | | | | |
| M 95 - Mar 22, 2020 (104 sec) | | M 95 - Mar 22, 2020 (3 min) | | M 95 - Mar 22, 2020 (7 min) |
| | | | | |
| M 95 - Mar 22, 2020, photo on top processed | | M 95 - Mar 22, 2020, photo above processed | | M 95 - Mar 22, 2020, photo above processed |
| | | | | |
| M 95 - Apr 22, 2020 | | M 95 - Apr 23, 2020 | | M 95 - Apr 23, 2020 |
| | | | | |
| M 95 - Apr 22, 2020, photo above processed | | M 95 - Apr 23, 2020, photo above processed | | M 95 - Apr 23, 2020, photo above processed |
| | | | | |
| M 95 - Mar 7, 2020 | | M 95 - Mar 7, 2020 | | M 95 - Mar 8, 2020 |
| | | | | |
| M 95 - Mar 7, 2020, photo above processed | | M 95 - Mar 7, 2020, photo above processed | | M 95 - Mar 8, 2020, photo above processed |
eVscope 2
M 95
| | | |
| --- | --- | --- |
| | | |
| M 95 - Mar 20, 2022 | | M 95 - Mar 20, 2022, photo left processed |
M 95 and M 96
| | | |
| --- | --- | --- |
| | | |
| M 95/96 - Apr 17, 2022 | | M 95/96 - Apr 17, 2022, photo left processed |