Messier 57 (M 57)
Introduction | Map | Sketch | My Own Observations | My Own Photos | References
On this page I collect my observations of the planetary nebula M 57, called Ring Nebula, in the constellation Lyra.
Introduction
The Ringnebel M 57 in the constellation Lyra is a planetary nebula and in interesting observation object, because, under favorable conditions, you may be able to recognize a ring structure.
Size: 1.2' (Stoyan)
Distance: 1,800 light years (Stoyan)
Rating: **** (Stoyan).
Map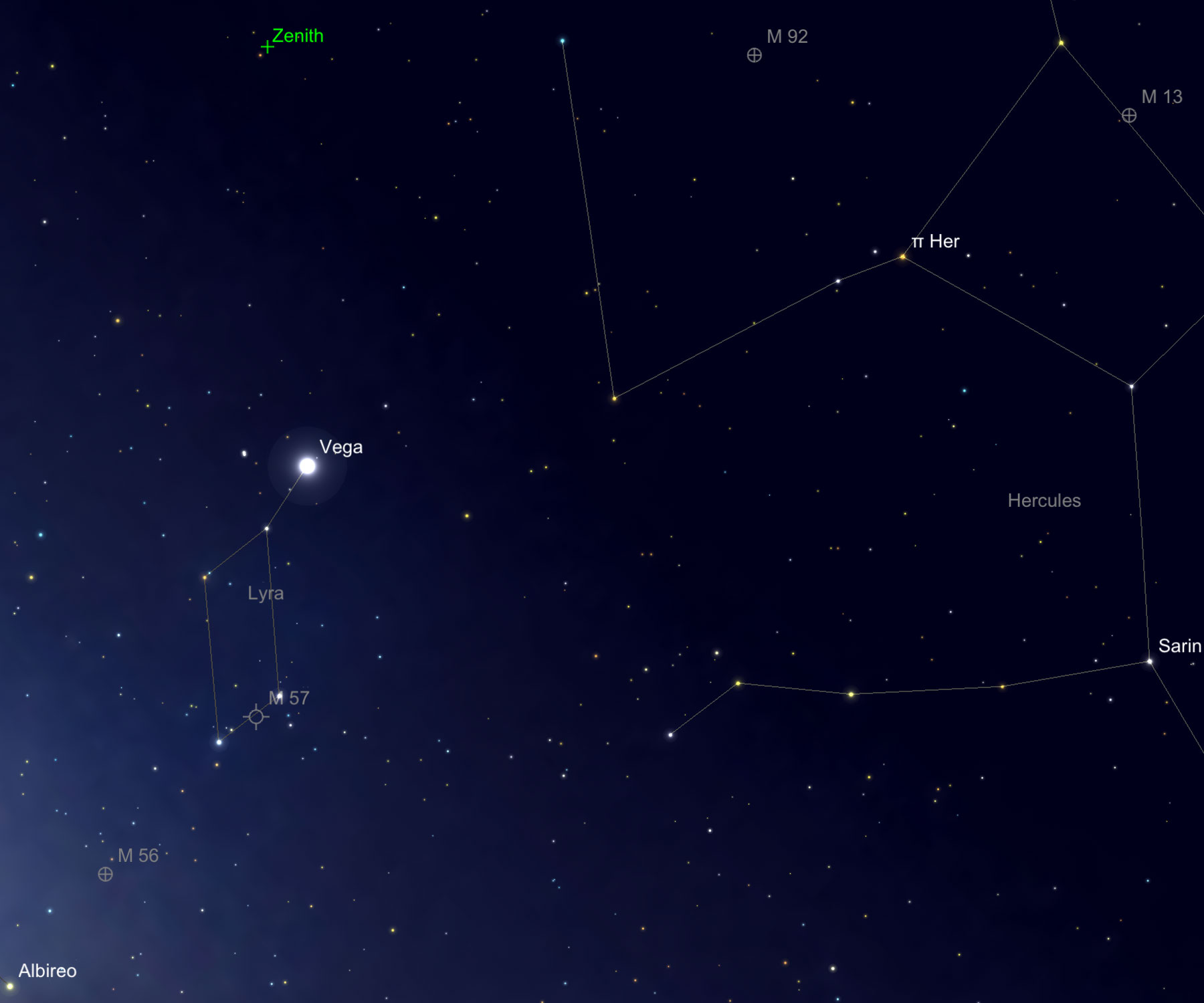 M 57 in Lyra, M 56 is nearby, double star Albireo, too, and the two Hercules clusters M 13 and M 92 are not too far away...
Sketch
The sketch by Michael Vlasov (DeepSkyWatch.com) provides a rough impression of what I observed: Sketch of M 57 (Ring Nebula) by Michael Vlasov (Copyright © Michael Vlasov 2016)
Note: I only have the author's permission to link to the sketch.
My Own Observations
Observations Summer to Autumn 2016
September 7, 2016 (Mühlhausen/Kraichgau: Skymax-102 on the GoTo mount) and September 9, 2016(ditto: Heritage P130 on GoTo mount): Observed M 57 - the nebula was small and faint, and the ring was, at best, to be adumbrated at higher magnifications.
End of September/beginning of October 2016 (Sumène, Haute Loire, France: Heritage 100P): In spite of several attempts, I was not able to find M 57 (ditto in September 2017).
Note: Observation by someone else: At around 100 x you should see that it's a ring, if the sky is truly dark it should be very obvious.
My Own Photos
Atik Infinity & Heritage 100P (November 29, 2017)
| | | |
| --- | --- | --- |
| | | |
| M 57 (Ring Nebula in Lyra), unprocessed | | M 57 (Ring Nebula in Lyra), post-processed |
Atik Infinity & Heritage 100P (December 7, 2017)
With Barlow Lens (2 x)
| | | | | |
| --- | --- | --- | --- | --- |
| | | | | |
| M 57 (Ring Nebula in Lyra), unprocessed | | Ditto, post-processed | | Ditto, more "aggressively" post-processed |
With Focal Extender (2 x)
| | | | | |
| --- | --- | --- | --- | --- |
| | | | | |
| M 57 (Ring Nebula in Lyra), unprocessed | | Ditto, post-processed | | Ditto, more "aggressively" post-processed |
Atik Infinity & Explorer 150PDS (December 31, 2017)
| | | | | |
| --- | --- | --- | --- | --- |
| | | | | |
| M 57 (Ringnebel in Lyra), unprocessed | | Ditto, post-processed | | Ditto, post-processed (16 bits) |
References
On this Site