Messier 56 (M 56)
Introduction | Map | My Own Observations | My Own Photos | References
On this page I collect my observations of the globular star cluster M 56 in the constallation Lyra.
Introduction
The globular star cluster M 56 in the constellation Lyra was initially harder to find for me than the clusters M 92 and even more so M 13 in the constellation Hercules. But when you proceed from the "lower edge" of the constellation Lyra towards Albireo, you will find M 56 halfway along the route relatively easily. M 56 is definitely smaller than other globular star clusters and also not that concentrated.
Size: 3' (Stoyan)
Distance: 31,000 light years (Stoyan)
Rating: ** (Stoyan).
Map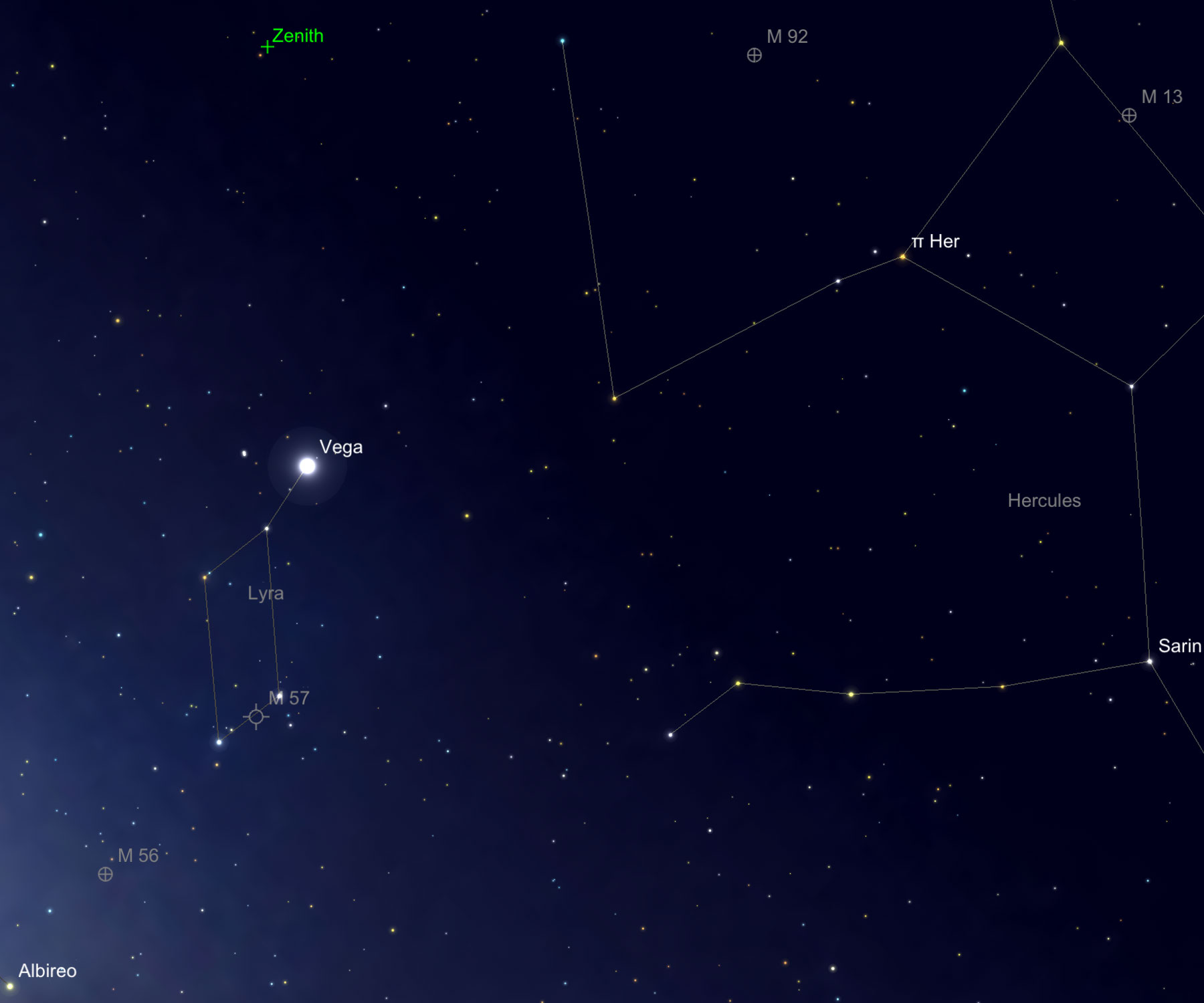 M 56 in Lyra, M 57 is nearby, double star Albireo, too, and the two Hercules clusters M 13 and M 92 are not too far away...
My Own Observations
Observations Summer to Autumn 2016
I observed M 56 in Mühlhausen/Kraichgau (time and telescope are unknown / forgotten). There was a sphere to be seen, but it appeared much smaller than M 13 and M 92.
Late September/early October 2016 (Sumène, Haute Loire, France: Heritage 100P): I did not find M 56 - despite several attempts.
Observations August 2018
Observations October 2018
Oct 5 (Betz, France: unknown telescope): M 56 observed well
My Own Photos
Atik Infinity & Heritage 100P (December 7, 2017)
With Barlow Lens (2 x)
| | | | | |
| --- | --- | --- | --- | --- |
| | | | | |
| M 56 (Lyra), unprocessed | | Ditto, post-processed | | Ditto, more "aggressively" post-processed |
With Focal Extender (2 x)
| | | | | |
| --- | --- | --- | --- | --- |
| | | | | |
| M 56 (Lyra), unprocessed | | Ditto, post-processed | | Ditto, more "aggressively" post-processed |
Atik Infinity & Explorer 150PDS (December 31, 2017)
| | | | | |
| --- | --- | --- | --- | --- |
| | | | | |
| M 56 (Lyra), unprocessed | | Ditto, post-processed | | Ditto, post-processed and sharpened |
References
On this Site