Meade Lightbridge Information (10" Dobson)
On this page, I present some information about my Meade LightBridge 10" Dobson telescope (purchased in October, 2009). The basic data for this telescope (and its siblings) was collected from the Astrocom Website (www.astrocom.de), the company where I bought the telescope (it no longer sells telescopes).
Note: I sold the telescope in March 2016 (see below). I therefore can no longer report any experiences with this scope here.
Motivation
Why did I buy the Meade LightBridge 10" Dobson telescope and for what purpose? After owning the Meade ETX-90EC for about 10 years with some highlights, but also many failures, I finally wanted to get into astronomy a bit more seriously in 2009. For this purpose, I wanted to have a telescope that was universal and simple and that could give me access to as many sky objects as possible. And this meant that it should have as large an aperture as possible - one that I could just manage in terms of weight. An opening of 10" seemed to me ideal for this purpose (even though 6" and today more 8" telescopes are regarded as "beginners' devices"). Since I was a "Meade fan boy " and had also been looking for Dobsonian telescopes a lot, an offer from Astrocom for a Meade truss Dobsonian telescope, a Meade 10" LightBrige, which was reduced by 100 EUR, seemed just right to me.
In practice, however, the telescope proved to be too heavy for me, especially in view of my poor hips. After initial explorations of the moon and some planets, I used it less and less, and experiments on deep sky objects remained rare (except on the Andromeda galaxy M 31 and the Orion nebula M 42). There were just no attempts at exploring the world of DSOs... In addition, was not entirely satisfied with the results that the telescope delivered. In retrospect, however, I believe that the Meade LightBridge was definitely better than all of my smaller telescopes that followed and that I only had the wrong expectations...
Anyway, it came as it had to come, I bought smaller Dobsonian telescopes for traveling and also for home use and used only these, because it was too laborious for me to take out the large truss Dobsonian telescope. And so I finally sold it to a former colleague in 2016...
Look
The top row shows views of my 10" Dobson telescope (left: with stray light protection, center: size comparison with Meade ETX-90EC). Then, there are some comparisons with my 5" Dobson Heritage P130. The bottom row also shows my Revelation eyepiece suitcase, which I bought to complement the telescope (10" Dobson and suitcase were bought from Astrocom - the telescope was a demonstration sample).
The Revelation eyepiece suitcase contains 5 Plössl eyepieces 1.25" (9 mm, 12 mm, 15 mm, 20 mm, and the highly praised 32 mm Digi-Scope eyepiece), a 1.5 x/2 x Barlow lens, a moon/gray filter, 4 color filters for planet observations (colors: #11 yellow-green, #25 red, #47 violet, and #82A lightblue) and a 1.25" photo adaptor with T2 mount (M42 x 0.75 mm).
Basic Data for Meade LightBridge 10" Dobson Telescope (in Comparison)
Telescope

Meade

Sky-Watcher Heritage/Explorer

GSO
8"
10"
12"
16"
76
100P
114P
P130
150PDS
GSD 680
Optical Design
Newton
(Parabolic)
Newton
(Parabolic)
Newton
(Parabolic)
Newton
(Parabolic)
Newton (Spherical)
Newton (Parabolic)
Newton
(Parabolic)
Newton (Parabolic)
Newton (Parabolic)
Newton (Parabolic)
Primary Mirror Diameter
203 mm
254 mm
305 mm
406 mm
76 mm (3")
100 mm (4")
114 mm (4.5")
130 mm (5")
150 mm (6")
200 mm (8")
Focal Length, Focal Ratio
1219 mm
f/6
1270 mm
f/5
1524 mm
f/5
1829 mm
f/4.5
300 mm
f/3.95
400 mm
f/4
500 mm
f/4.38
650 mm
f/5
750 mm
f/5
1200 mm
f/6
Resolving Power (arc secs)
0.56"
0.45"
0.38"
0.28"
1.51"
1.15"
1.01"
0.9"
0.77"
0.58"
Limiting Visual Stellar Magnitude
ca. 14 mag
ca. 14.5 mag
ca. 15 mag
ca. 16 mag
11.2 mag
11.8 mag
12.1 mag
13.3 mag
12.7 mag
14.5 mag
Light Gathering Power
841
1316.7
1898.5
3364
117.9
204.1
265.2
344.9
459.2
816.3
Maximum Practical Visual Power
ca. 550 x
ca. 600 x
ca. 700 x
ca. 900 x
ca. 100 x (152 x)
150 x (200 x)
170 x (228 x)
ca. 195/220 x (260 x)
ca. 225 x (300 x)
ca. 300 x (400 x)
Optical Tube Dimensions (diam. x length)
28 cm x 115 cm
35 cm x 119 cm
40 cm x 144 cm
51 cm x 170 cm
n.a.
11.5 cm x 37 cm*
n.a.
Tube collapsed < 37 cm
(14.5") long
18.2 cm x 69 cm
18 cm x 68 cm*
23 cm x 115 cm
Net Weight Basis
9 kg
12.2 kg
15 kg
24 kg
1.3 kg*
1.6 kg
3.1 kg*
--
11.2 kg
Net Weight Optical Tube
10.9 kg
17.2 kg
21.3 kg
33.6 kg
1.2 kg*
3.7 kg
3.25 kg*
5.0/6.0 kg
5.5 kg*
9.5 kg
Net Weight Complete
1.75 kg
2.5*/2.8 kg
5.3 kg
< 6.5 kg or 14 lbs.
appr. 21 kg
Dark Blue: Telescopes that I still own; italic and dark red: telescopes that I owned; black: for comparison; *) own measurement
Visited Sky Objects
I cannot remember, which sky objects I visited with the Meade 10 "Dobson telescope, but least these are for sure:
Moon
Jupiter (stripes, moons), Saturn (with ring), Venus (phases), Mars
M 31, Milky Way, a few nebulae (Orion Nebula?)
Highlights
Planets: Jupiter (stripes, moons), Saturn (with ring), Venus (phases)
Moon
First Photo Attempts
Photos with Camera held to the Eyepiece
My first photo attempts were devoted to the moon, again based on the 1:50 method. Regrettably, the moon was already too close to full moon. I was able to shoot at least one usable photo (my further attempts looked similar):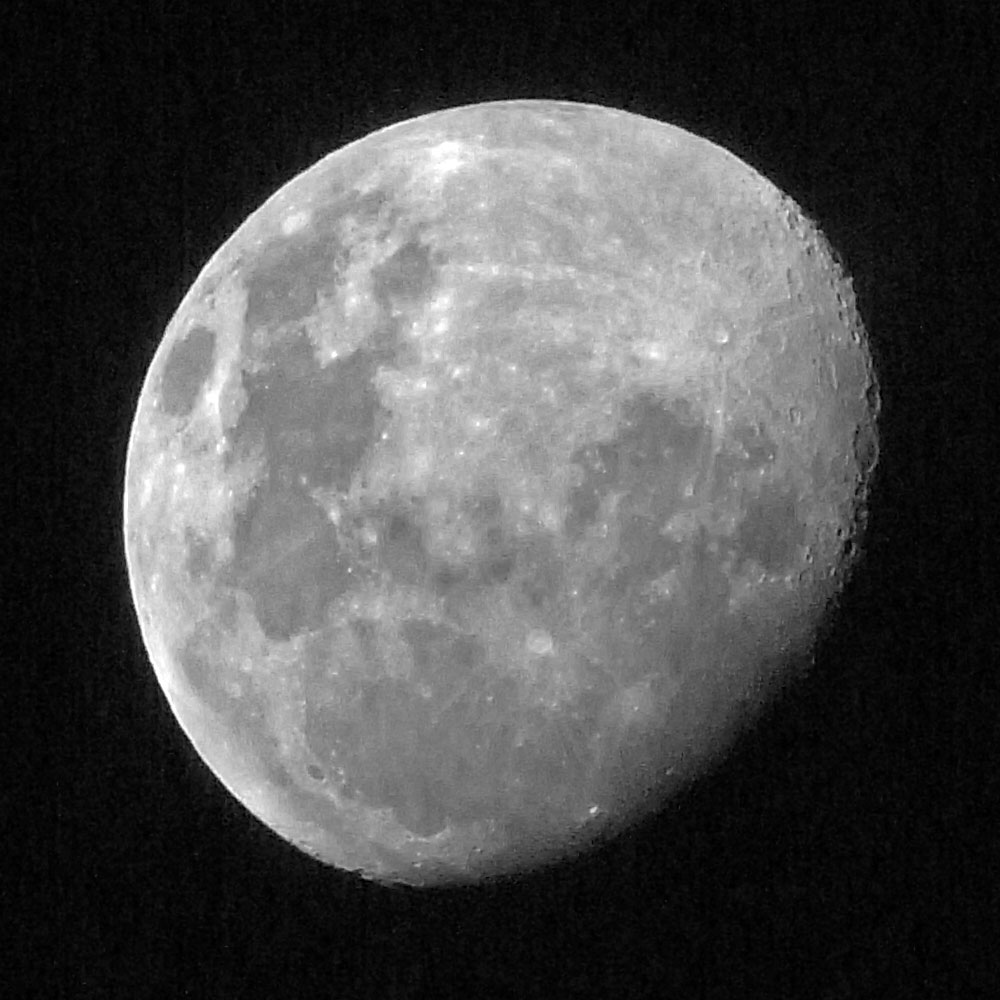 Click image for larger version!
Photos with Camera (Ricoh GXR) Mounted to the Eyepiece
See my photo attempts with the camera (Ricoh GXR) mounted to the eyepiece on pages:
Conclusions
The Meade 10 "Dobson telescope yielded the best results of all the telescopes that I have owned so far, regarding the Moon, the planets, as well as the few nebulae that I have observed. Due to its high magnification (because of the long focal length) and its large aperture (10 "= 25 cm) this was to be expected. The difference to the Heritage P130 was, however, not as large as I had expected. Perhaps my expectations as to a telescope of this aperture and quality were too high, especially since the observation conditions (the "seeing") were not always the best, (I struggled a lot with air turbulence, in particular). Maybe I should have bought a collimator earlier, but I just did not dare to adjust the scope for a long time... Actually, the telescope did not appear to be really maladjusted, when I checked it with a laser collimator for the first time.
Moon photos turned out pleasingly sharp, and the planets Venus, Jupiter, and Saturn could be easily observed with the eye in some detail (crescent, stripes, moons, ring; I was not able to recognize the Cassini division in the Saturn ring, maybe the air turbulence was too high). The latter was especially true after I finally tried to adjust the telescope (which I did in 2015, a long time after the purchase of the telescope).
Note: Regrettably, I cannot post any further impressions on this telescope here, because I sold it in March 2016 due to the high weight of the assembled optical tube (over 17 kg). Only with difficulty, I was able to carry the tube with my "damaged" and, later, "repaired" hips.
Links
Meade Company Website, USA: www.meade.com
Meade Dobsons: www.meade.com/lightbridge/index.html
German Distributor: Astrocom (Munich, Germany): www.astrocom.de
Comparison data for the Meade LightBridge Dobson telescopes can be found on this Website: Search for Meade Dobson telescopes, select the respective telescopes for comparison, and call the comparison page by pressing a button.
Revelation eyepiece set (no longer available, except for Telescope House):