Celestron StarSense AutoAlign for Sky-Watcher - Connecting to a Mac (USB)
On this page, I collect further experiences with and some information about my new Celestron StarSense AutoAlign for Sky-Watcher module (ordered on February 1, from Teleskop-Spezialisten, arrived on February 7, 2018), which I will call "StarSense module" for short in the following. After the acquisition of a GoTo controller, this module is the final step towards "complete astronomical incompetence"...
Here, I want investigate, how I can connect the StarSense-Modul with an Apple Maciontosh using an USB cable and how I can control the mount using the SkySafari planetarium software (one more cable...).
See also:
Introduction
More by chance, I came across the possibility that the Celestron StarSense module can also be connected to a computer via WLAN (WiFi) or USB/serial cable. Then the mount can be operated with a suitable application on the computer instead of using the handbox (actually, it works in addition to...). I had not even considered this possibility, and I also was not sure what the benefit of such a solution would be.
As always in such cases, many hours of trying and frustration, searching the Internet and reading books - and waiting for a suitable sky - stand before success. In addition, there are, of course, the many hours spent by others on whose experience one builds... For reasons of effort and experience I would like to write the following only about the configuration that I own: Sky-Watcher Star Discovery AZ Goto mount, Celestron StarSense AutoAlign for Sky-Watcher module, Apple Macintosh MacBook Pro, connecting the handbox to the computer via USB cable, Sky Safari 6 for Apple Macintosh. Many parts of my writing can be transferred to other configurations, but of course I cannot write anything about a WLAN connection here due to my lack of experience in this respect (except what I read...).
At this point I would like to refer to Michael Swanson, who can be considered a NextStar expert and who has set up a Website on Celestron telescopes, has written books about them, and also discusses the problems at hand for as many configurations as possible. In addition, he also keeps in touch with forums and helps desperate users.
Connecting StarSense to a Computer
WLAN/WiFi Connection
From what I understand, the easiest way to establish a WLAN connection between the StarSense module and a computer is via the Celestron Sky Portal WiFi module or via the SkyFi3 module of Simulation Curriculum (the former is connected either to the handbox port or an AUX port, the latter to the handbox). In addition to controlling the mount via the screen of a planetarium application, it is also possible to align the telescope this way (unlike the cable solution). For further information I have to refer you to the Internet and the literature...
About the topic Sky-Watcher SynScan WLAN adapter and Celestron Starsense: As far as I know, this cannot work with the SynScan WLAN adapter, because the SynScan WLAN adapter can only communicate with other programs via its app, not directly with, for example, SkySafari. Nevertheless, I tried this out against my better knowledge with and without the handbox, and it did not work! The handbox did not even start up properly, when the SynScan WLAN adapter was connected to the relay box (splitter). Another hobby astronomer reported something similar.
Connection via USB- or Serial Cable
First of all, because many people ask this question: With this type of connection, the mount has first to be aligned with the StarSense handbox. Only then the USB cable is plugged into the computer (at the other end it is plugged into the StarSense handbox), Sky Safari started, and the connection to the telescope established. The telescope can then be controlled with the handbox as well as with SkySafari (GoTo, direction keys). Probably is wrong if you plug cables into the computer before the alignment...
Older handboxes only have a serial port (RS232), models from 2016 on sport a mini-USB port. There you can connect a USB cable, as it is supplied with cameras, for example, and at the other end with a normal USB plug to the computer. Since my computer only has USB-C ports, I also need an appropriate adapter on the computer side. In addition, I use a USB extension cable to give me more freedom of movement.
If I have connected the handbox to my MacBook Pro via cable, I can already recognize the controller in the system report (About This Mac > System Report...) under USB (as long as the cable is plugged in):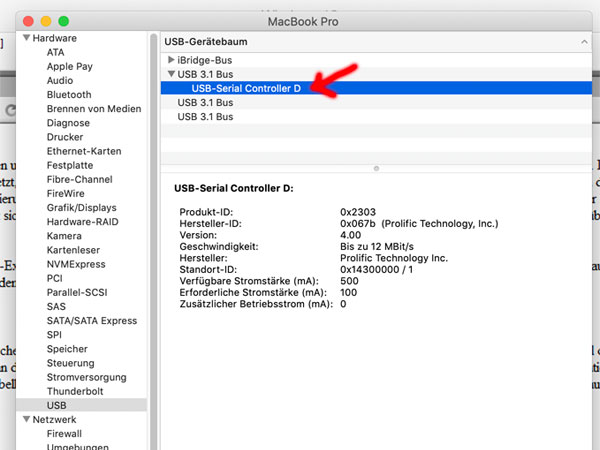 Photo: The USB-Serial Controller is already shown without an installed driver, as soon as the USB cable is connected to the computer (and to the handbox on its other side).
But that does not mean that you can now run SkySafari and communicate with StarSense. For this, a driver has to be installed once! I got the necessary information and the driver (prolific, 1.61 in the current version; see below) on Michael Swanson's Website and from his book. With some reservations, I installed the driver, because without it nothing would not work...
There is also an installation guide in the driver archive. There it is described how to check after the installation with the terminal program whether the driver is set up. I cannot find the driver listed, as is required, but since a second installation of the driver, Sky Safari reports that there is an "usbserial" device. This was not the case after the first installation (reboot required!), so I reinstalled the driver the next day. After that, the device was available in SkySafari for suitable telescopes (see below). I do not know, whether the reinstallation was really necessary or whether the observed behavior was not just a coincidence. I will never be able to clarify that...
Connecting StarSense and SkySafari - and off You Go!
After the cable connection between handbox and computer has been established, the SkySafari application must still be "communicatively" connected to the handbox or mount. For this, open menu "Telescope > Setup...":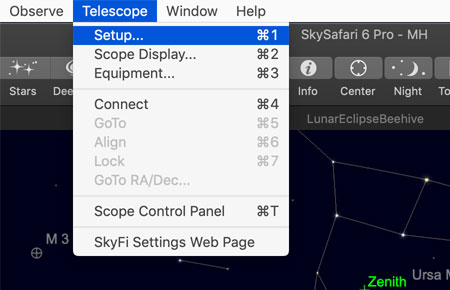 On the left side of the SkySafari window, a dialog area for the necessary data appears: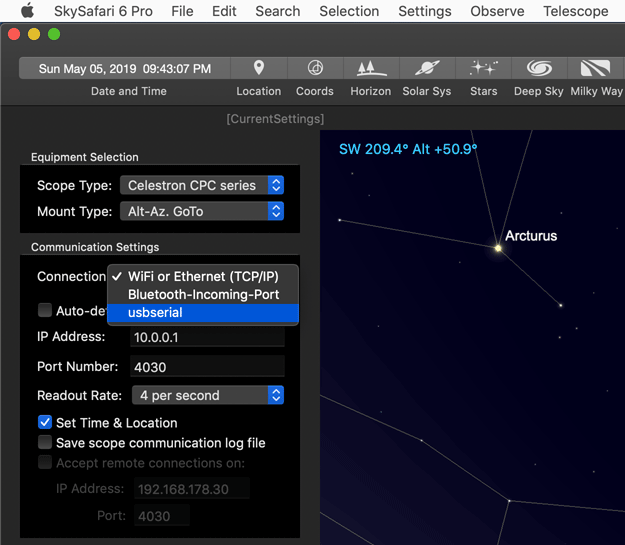 Figure: Dialog area for setting up the telescope connection
For me, the most important entries are:
Scope Type: For me, the various Celestron telescope types (except for Celestron-WiFi) work, as well as Sky-Watcher SynScan.
Mount Type: Alt-Az. Goto for Sky-Watcher Star Discovery AZ Goto mount
Connection: usbserial (if it is not listed, there is a problem!)
Set Time & Location: If you check this item, time (and time zone), date, and location are transferred from SkySafari to the handbox. Regrettably, I still do not know, whether this has an impact on a preceding alignment (paricularly, by requiring a realignment)...
Save scope communication log file: I check this field whenever I want to habe a look at the communication between SkySafari and the handbox. For details see the appendix!
You can establish the connection using the "Connect" button (not visible), and the "Scope Control" panel apears, which should be self-explaining. In the case that the panel was already open, you can also use the panel for connecting. In the case that you opted for a log file to inspect the communication protocol, now a dialog appears for saving and naming the log file. If everything works well, finally a "marker" appears on the sky image, which shows where the telescope points to; the marker can be adapted to your liking. Now you are ready for observing!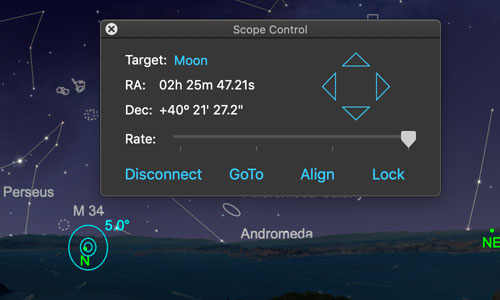 Figure: After a connection has been successfully established, the Scope Contro panel appears, and a marker (called bullseye) shows where the telescope points to in the sky (or, as in this case, below the horizon...).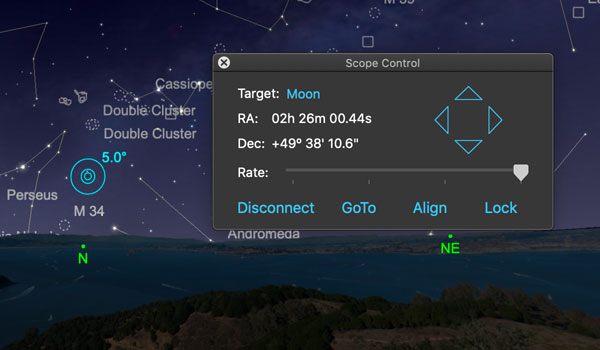 Figure: State after a few slew commands (using the arrows in the Scope Contro panel)
You select a sky object by clicking it, clicking "GoTo" starts the slew process for accessing the respective object.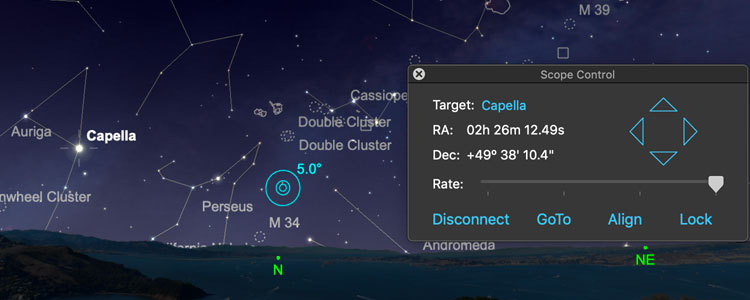 Figure: Capella has been selected. After you click "GoTo", the telescope slews there.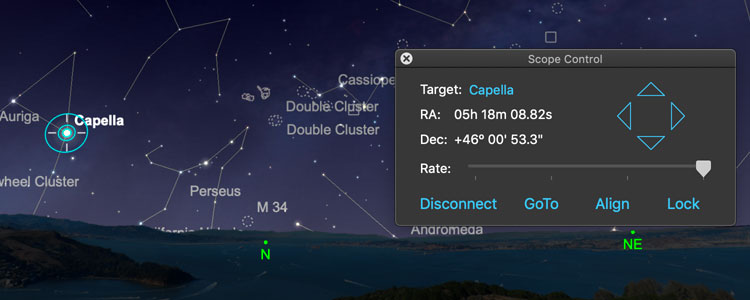 Figure: The telescope has arrived at the selected target Capella.
Alternatively, you can select and access sky objects using the handbox. Motor-driven movements (slewing) work using SkySafari as well as with the handbox.
Remarks on the Scope Control Panel (From the SkySafari Help with some Additions)
Align: This synchronizes the scope to coordinates of the selected object. The bullseye indicated in the sky chart shows where the telescope thinks it is pointing. If that appears incorrect, the scope and the software must be aligned. To do so:
Physically center the scope on a real object in the sky (do not use the arrow keys in SkySafari or on the handbox!).
Select that object in the sky chart to make it the current target object.
Click the Align button.
You can re-align the scope and the software anytime there is a discrepancy between the two. (Sometimes, however, an error message appears that the difference is too large, but this may only appear if you move the scope with the motors.)
When using StarSense, the encoders simply seem to be ignored. Therefore, SkySafari does not take this into account when you move the mount purely mechanically.
Note: for Celestron NexStar, Orion/SkyWatcher SynScan, iOptron GOTONova, and ServoCAT telescope controllers, tapping the Align button stores the offset between the telescope's reported position and the selected object's position. It subtracts that offset from the telescope's reported position whenever the telescope is within 10 degrees of the object you Aligned on. In other words, SkySafari performs a "local sync" around the alignment target. If you move the telescope to a very different part of the sky, you may want to Align on a target in that part of the sky. Also note that the telescope's RA/Dec reported by SkySafari will differ from the RA/Dec reported by its hand controller (since SkySafari is applying the alignment offset to the telescope's reported position.)
Lock/Unlock: This button keeps the sky chart centered on the telescope's position. Moving the telescope will cause the sky chart to move as well, following the telescope's motion.
Lock: The sky chart moves, the bullseye remains fixed.
Unlock : The sky chart remains fixed, the bullseye moves.
Note: The panel always shows the opposite state as text, that is, it does not show the state, it shows the command, instead. For example, when it is in the "Lock" state it shows the text "Unlock"!!!
It is NOT Going to Start Yet - Bug Fixing...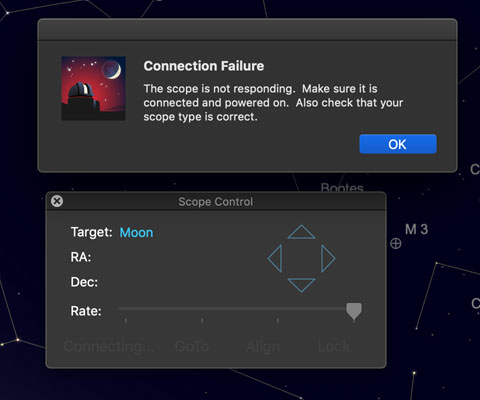 Figure: Connection failure - the Scope Control panel remains "blind"...
Unfortunately, the "normal case" is not the normal case on some days, and an error message may appear again and again stating that a connection to the telescope cannot be established. But this is not the only problem that can arise... In the following, I list errors and their potential remedy, as far as they occurred with me:
It takes a very long time until the setup dialog appears on the left side: This is not a good sign, because I always got an error message saying that it was not possible to connect to the telescope in that case. Exiting and restarting the program did not help. In the end, I restarted the computer. Then, at least, the dialog appeared faster. After some, no longer comprehensible, fiddling finally also the connection to the telescope could be established!
Wrong telescope type set: I only use the different Celestron telescope types (except for Celestron-WiFi) and Sky-Watcher SynScan. Meade LX200 did not work and I did not want to try any other telescope types - why should I?
I get an error message that no connection can be established - can I do anything about this? I then tried switching between different types of telescopes. After 2-3 changes the connection often could be established. Maybe it is enough to try this several times with the same setting...
I get this error message again and again, no matter what I do (set): After a lot of tries with different settings, I finally removed the USB cable from the computer and connected it again, that helped once, but there is no guarantee that this always helps. I also changed the Readout Rate, and it helped once... Turning the mount off can only be the "ultima ratio", because after that the alignment has to be repeated...
The telescope points diametrically into the wrong direction in SkySafari: This error occurred to me first when I did "dry tests" and used the "Quick Align" functionality. I knew that the telescope had to be aligned horizontally, but I had forgotten that it had to be aligned to the North. I typically have it facing South to Southwest on our terrace. Pointing the telescope to the North (levelled!) helped when I tested this in daylight.
This problem also occurred after two Auto Aligns with pointing the telescope to the SouthWest as well as to the North (during my first test night). For Auto Align, the telescope direction should be irrelevant... This has still to be investigated!
Some Observation Nights with StarSense and SkySafari
After the basic procedure for controlling the mount with StarSense via SkySafari had already been clarified in my "dry tests" during the day, the nightly tests were mainly concerned with finding out, in which direction the bullyeye on the SkySafari sky chart would point - in the right, diametrically opposed, or in a completely different direction. So far, I was not able to recognize any principle, except that it was never correct...
First Observation Night
Equipment: Explorer 150PDS on Star Discovery mount with StarSense, SkySafari on Apple MacBook Pro 13".
To make it short: I aborted the first observation night (Aug 30, 2019) with StarSense and SkySafari because of failure and frustration (luckily I continued later with the SynScan WLAN module, and so I was still able to observe some nice sky objects). I failed mainly due to the fact that in SkySafari the target marker of the telescope was displayed on the diametrically opposite side of the sky. There were also problems with date, time, and location as soon as I connected SkySafari to the StarSense module. Why these problems occurred is unknown to me so far.
The alignment (Auto Align, orientation approximately to the southwest, telescope level) with StarSense worked only in the third attempt (about 21 o'clock); before that the module did not find enough stars, because it was still too bright. With this alignment, I found M 13, but that was all... After I had connected the computer and connected SkySafari to StarSense (which did not work right away), the "target marker" of the telescope appeared diametrically opposite to its true direction in SkySafari, although time, date and place seemed to be correct. But they were changed again and again during my various efforts, especially when I connected SkySafari to StarSense. At that time, I had not been able to find a principle behind all this! Sometimes, I had the impression that SkySafari might send data to StarSense about location/date/time and possibly change it there, but I was unsure about this (unfortunately, it is also a little tedious to check this again and again with the handbox). A few days later, I tested the behavior of "Set Time & Location" in SkySafari systematically, and it worked exactly "as advertised." All you have to do is take care that time and location data is correct in SkySafari when you check "Set Time & Location."
A Quick Align with tube orientation to the North did not seem to bring success, neither did a normal Auto Align with tube orientation to the North. The telescope "target marker" pointed again and again in the wrong (opposite) direction, also "cheating" (mechanical moving of the tube to targets set in SkySafari) did not help. In the end, I gave up frustratedly...
Second Observation Night
On September 3, 2019, I made another attempt with the same configuration (see above). After some failed attempts, I was finally able to align the telescope with Auto Align. However, when I accessed Arcturus via "GoTo," it was not in the field of view. I added a few alignment points, but when I checked for Arcturus after each addition, there was no improvement. Finally, I tried to connect StarSense to SkySafari on the MacBook Pro. It took me several attempts before I was successful. However, the bullseye pointed to a completely wrong direction on the SkySafari sky chart - probably to the opposite direction. So I stopped my tests and switched to SynScan WLAN, because I had other plans for that night...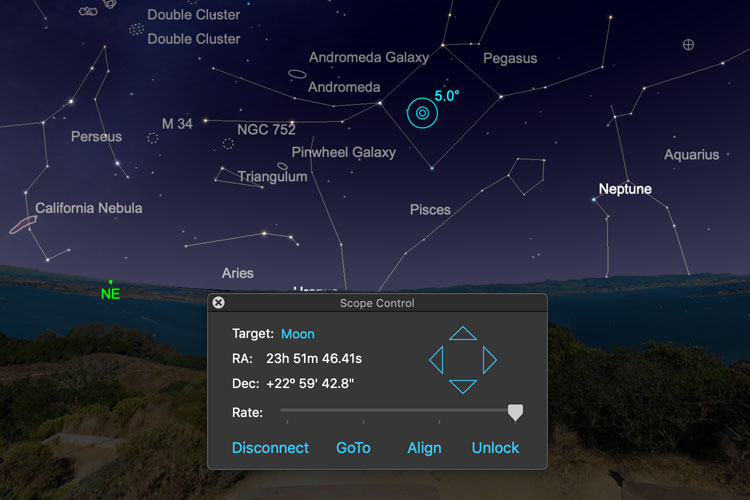 Figure: The bullseye should have pointed to the Southwest, not to Northeast...
Why a Connection to the Computer at all?
I did not ask myself this question at first, because I thought that such a connection was pointless and impossible. What should be the advantage over the handbox, which offers many possibilities?
First of all, I can reach all destinations with the handbox that I can reach with the SkySafari application. There may surely be small differences, but I neglect these here for now... Typing in a few numbers for Messier or NGC objects is no problem for me.
But it gets a bit more tedious with the handbox if I have to switch between catalogs or even want to approach objects whose names I only know in a catalog that the handbox does not support directly (the object may have an NGC number that I do not know...). It gets difficult with the handbox when I have to search for objects in long lists of names (named stars, named DSO). There may be "acceleration methods", but I always forget them or they do not really help me...
Often I would like to approach objects in a certain area of the sky. In such a case, a pictorial representation of the sky is of advantage, because then I have all the objects together ina common view and can select and approach them one after the other. Of course, I can also create a corresponding list beforehand (I usually do that as well), but the operation via the sky map is more intuitive and direct for me in this use case. In addition, you may notice "in the process" other objects of interest, which you can then access as well... Typically, the objects also have very different catalog names (M, NGC, IC, ST, CR, ...), which requires constant catalog changes on the handbox (or you first have to access all M, then all NGC objects, etc...), which make the procedure a bit tedious (if you stick to one catalog, you only have to change the numbers). Surely I will come across more things in the course of time that are easier to do with the computer.
But I would also like to mention that the handbox is now hanging between two cables and thus becomes even more of a tripping hazard and that with the computer another device is in the game, which then may create problems on its own...
All in all, I can see that in certain cases it is quite practical to control the mount with StarSense via the computer, even if many StarSense functions are only accessible via the handbox and the computer control is largely limited to approaching sky objects. In addition, as described in detail above, the alignment must be performed with the handbox at the beginning of your observations.
Preliminary Conclusions
It is still too early for any conclusions in this matter... But I can already say now: Before success the gods have set sweat! And I am seriously considering whether I should not simply do without controlling the telescope with SkySafari...
Links
Appendix: Communication between Handbox and SkySafari
On his website, Michael Swanson offers a link to the documentation of the NextStar protocol, which is used by the StarSense module to communicate with SkySafari and other programs. I downloaded this documentation and briefly logged the communication to get an impression of how it works (I created a log file in SkySafari). First of all: most of the time (by default 4 times per second) SkySafari queries the current coordinates (e command).
I also found queries for the version (V or v command) and coordinate-less GoTo commands (r command) (also a coordinate-less Sync command (s command)). But only GoTo commands given by SkySafari appear in the log, not those from the handbox. This communication is mostly done in ASCII format.
In addition, some binary data is exchanged, often the same. I found slewing commands (P), tracking queries (t, "0" = off) and commands (T), as well as time/date/location commands (H = Set Time), most of them without parameters... Possibly this is the case, because no or no real alignment had been done.
All in all, I did not systematically examine all this, because it was no longer that important to me after things worked basically...
Protocol Excerpts
Start with query for the version (V/v) and query for the exact coordinates (e, precise RA/DEC, 4 x per second):
Sent ASCII at 2019/08/28 15:30:45 with error 0:
V
Received ASCII at 2019/08/28 15:30:45 with error 0:
#
Sent ASCII at 2019/08/28 15:30:45 with error 0:
v
Received ASCII at 2019/08/28 15:30:45 with error 0:
#
Sent Binary at 2019/08/28 15:30:45 with error 0:
116 (= t)
Received Binary at 2019/08/28 15:30:45 with error 0:
0 35 (= 0, #)
Sent Binary at 2019/08/28 15:30:45 with error 0:
72 (= H)
Received Binary at 2019/08/28 15:30:46 with error 0:
35 (= #)
Sent Binary at 2019/08/28 15:30:46 with error 0:
87 (= T)
Received Binary at 2019/08/28 15:30:46 with error 0:
35 (= #)
Sent ASCII at 2019/08/28 15:30:46 with error 0:
e
Received ASCII at 2019/08/28 15:30:46 with error 0:
03ADD800,1CF09F00#
Sent ASCII at 2019/08/28 15:30:46 with error 0:
e
Received ASCII at 2019/08/28 15:30:46 with error 0:
03AE9A00,1CF09F00#
Sent ASCII at 2019/08/28 15:30:47 with error 0:
e
Received ASCII at 2019/08/28 15:30:47 with error 0:
03AE9A00,1CF09F00#
Sent ASCII at 2019/08/28 15:30:47 with error 0:
e
Received ASCII at 2019/08/28 15:30:47 with error 0:
03AE9A00,1CF09F00#
Sent ASCII at 2019/08/28 15:30:47 with error 0:
e
Received ASCII at 2019/08/28 15:30:47 with error 0:
03AF5D00,1CF09F00#
Sent ASCII at 2019/08/28 15:30:47 with error 0:
e
Received ASCII at 2019/08/28 15:30:47 with error 0:
03AF5D00,1CF09F00#
Sent ASCII at 2019/08/28 15:30:48 with error 0:
e
...
GoTo command (r):
Sent ASCII at 2019/08/28 15:31:34 with error 0:
r
Received ASCII at 2019/08/28 15:31:35 with error 0:
#
Sent ASCII at 2019/08/28 15:31:35 with error 0:
e
Received ASCII at 2019/08/28 15:31:35 with error 0:
C62B1F00,1CB28E00#
Sent ASCII at 2019/08/28 15:31:35 with error 0:
e
Received ASCII at 2019/08/28 15:31:35 with error 0:
C7355F00,1CCAD500#
Sent ASCII at 2019/08/28 15:31:35 with error 0:
e
...
Sync command (s):
Sent ASCII at 2019/08/28 15:31:55 with error 0:
s
Received ASCII at 2019/08/28 15:31:56 with error 0:
#
Sent ASCII at 2019/08/28 15:31:56 with error 0:
e
Received ASCII at 2019/08/28 15:31:56 with error 0:
388DF600,20B92900#
Sent ASCII at 2019/08/28 15:31:56 with error 0:
e
Received ASCII at 2019/08/28 15:31:56 with error 0:
388EB900,20B92900#
Sent ASCII at 2019/08/28 15:31:56 with error 0:
e
Received ASCII at 2019/08/28 15:31:56 with error 0:
388EB900,20B92900#